Following my initial thoughts on A5 (see here), I collect various research in this post.
Location
As a site-based work, I feel it important to consider the site itself as context for the portraits.
Skipton Woods in an ancient wood that sits below the town's medieval castle walls. In 1988, it was acquired on a 75 year lease by the Woodland Trust (a charitable organisation concerned with the preservation and development of UK woodlands). Info about the woods is provided on the organisations websites:
On the main website – https://www.woodlandtrust.org.uk/visiting-woods/wood-information/skipton-castle-woods/. This includes a history timeline, starting in 1066, through the building of the castle, the siege during the English civil war, its use for materials during the industrial revolution, the construction of the first industrial mill in the whole of Yorkshire, and its use of a place of leisure for the local community. The jobs that were once part of these activities are also discussed.
There is also a sub-site, aimed at local visitors to the area – https://skipton.woodlandtrust.org.uk. and recruiting volunteers for activities.
Contemporary use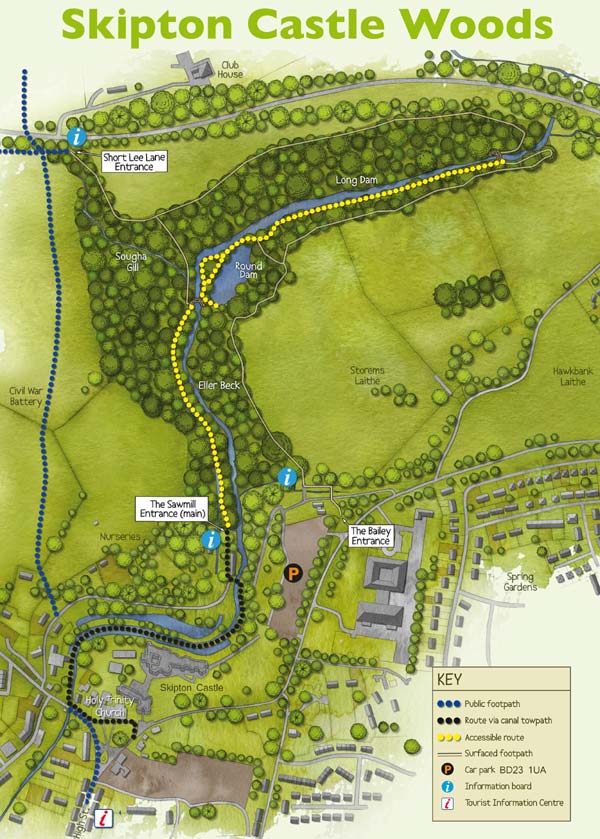 The wood is now maintained as a place of leisure and tourism and tree and wildlife preservation. The Woodland Trust (see later) organises volunteers to assist with its upkeep.
From my own walks in the woods, I've seen walkers, dog walkers, runners, nature watchers of all ages enjoying the place. The Woodland Trust encourages sharing of images of experiences against the hashtag #skiptoncastlewoods and features some of the photos on its own website.
https://www.instagram.com/skiptoncastlewoods/ is the managed Instagram account for the woods. Perhaps understandably, most of the images show images of nature, rather than images of people in nature. This is typical of mediated images of the countryside as unspoiled and tranquil.
There is also a Twitter account, which feature more about current volunteering and other activities in the woods.
Contact with Woodland Trust
Early in the project, I made contact with the Woodland Trust's manager of the site. Brief notes from my call:
[to be completed]