Work
click to view in lightbox
Context
Short contextual notes (full artist statement will be prepared for tutor submission)
brief was to make 6 images that show 'different selves'.
shoes as a vehicle to signify different identities – different shoes for different actions – "Man is nothing else but what he purposes, he exists only in so far as he realizes himself, he is therefore nothing else but the sum of his actions, nothing else but what his life is." Jean-Paul Sartre.
title, 'will have been living man's shoes' (ie they are a living man's shoes but will be a dead man's shoes in the future) is a reflection of my own morbid thoughts when making self-portrait work and a significant nod to Barthes reading of a photo of his mother as a little girl, 'she is going to die … whether or not the subject is already dead, every photograph is this catastrophe'
White anonymised space around subjects to allows viewer to put themselves in someone else's shoes (even if they are not a particularly desirable assortment). White space signifies a product image; something available to be owned and lived in, but there is disrupted communication through the worn shoes.
Peer feedback
As usual, some very useful feedback from those who participate in the OCA Discuss forum. I summarise the key points that will influence the final edit and context for the work:
suggestion of placing the shoes further down in the frame to enhance the perspective of looking down. I tried this with one of the pictures and think it works well (particularly say if they were printed on A3). Will reprocess all images to achieve this – thinking a ruled layout template in Photoshop and simply manipulating a flattened copy of the image over a white background.
one of the painters referred to Van Gogh's shoes (https://www.vangoghmuseum.nl/en/collection/s0011V1962?v=1). The caption provided by the museum makes this observation; 'Worn-out shoes were an unusual choice of subject for a painting. An acquaintance of Van Gogh's in Paris described how he bought old work shoes at a flea market. Then he walked through the mud in them until they were filthy. Only then did he feel they were interesting enough to paint. Van Gogh made a number of still lifes of this subject.' Another is shared by the Met Museum (embedded below)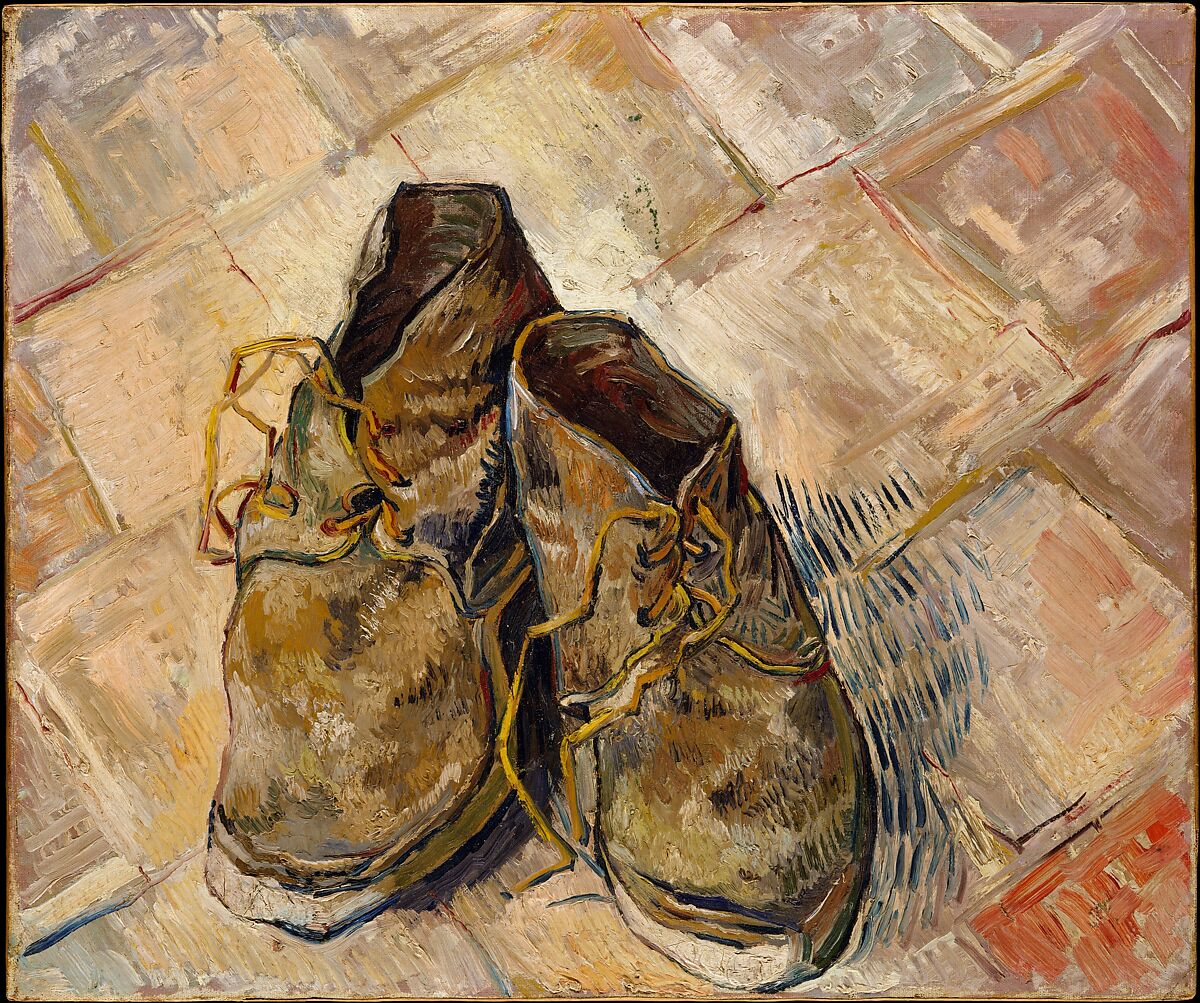 Finally, Clive White's eloquent description of the work; 'The cut out presentation brings in the connotations of presenting merchandise for purchase; a

Platonic idealisation that gets personalised and particularised through the wearing

.' So well, put that I may have to cite it.