Work
Here are the individual images and the proposed layout for dissemination. Images are tinted for web display to avoid the white bleeding into the white of the screen. The individual images are included as prints in the assessment pack.
Layout for dissemination
Dissemination would either be through a book or  in exhibition space. I discuss the layout rationale in my artist's statement below.
Individual images
click to view in lightbox
Artist statement
Note: hyperlinks connect to supporting information on this blog.
I am a reluctant self-portraitist. As Barthes said, 'whether or not the subject is already dead, every photograph is this catastrophe' (Barthes, 1980 ,p96). The punctum of time signifies our own mortality. For me, spending time on self-portraiture is akin to spending time with my own death – but working at it for a sustained period rather than briefly reflecting upon it. I didn't enjoy making this work but nonetheless found myself captivated by the traces of where I have been.
In this work, I have represented my different selves, through different shoes as signifiers of my actions. The brief required six images.  As Jean-Paul Sartre said, 'Man is nothing else but what he purposes, he exists only in so far as he realizes himself, he is therefore nothing else but the sum of his actions, nothing else but what his life is' (Satre, 1946). Each worn shoe has its own story and some also signify earlier shoes, replaced as they were worn and discarded. Each shoe reflects some aspect of my identity. They are presented in a white void so that viewers might imagine stories for the shoes or use them to walk their own stories. Rosy Martin makes the observation that 'photographs do have a way of telling stories, or rather people who view photos will project stories upon them … [it] is a way people have of making some sense of the world' (Martin, 1999). Martin has worked with the concept  of 'absent presence' (ibid) in a similar way to others working with 'trace' (for example, Sophie Ristelhueber and Martha Rosler).  My own work is informed by the concepts of  'absent presence' and 'trace'.
In relationship to the specific subject matter, I drew inspiration from artists creating images from their own feet and footwear, notably  John Coplans using of close-up but anonymous photos of his own body and Aline Smithson's diaristic self-portraits through her own but anonymous feet. I note that Vincent van Gogh found aesthetic interest in worn footwear and perhaps he may have had an early interest in 'absent presence'.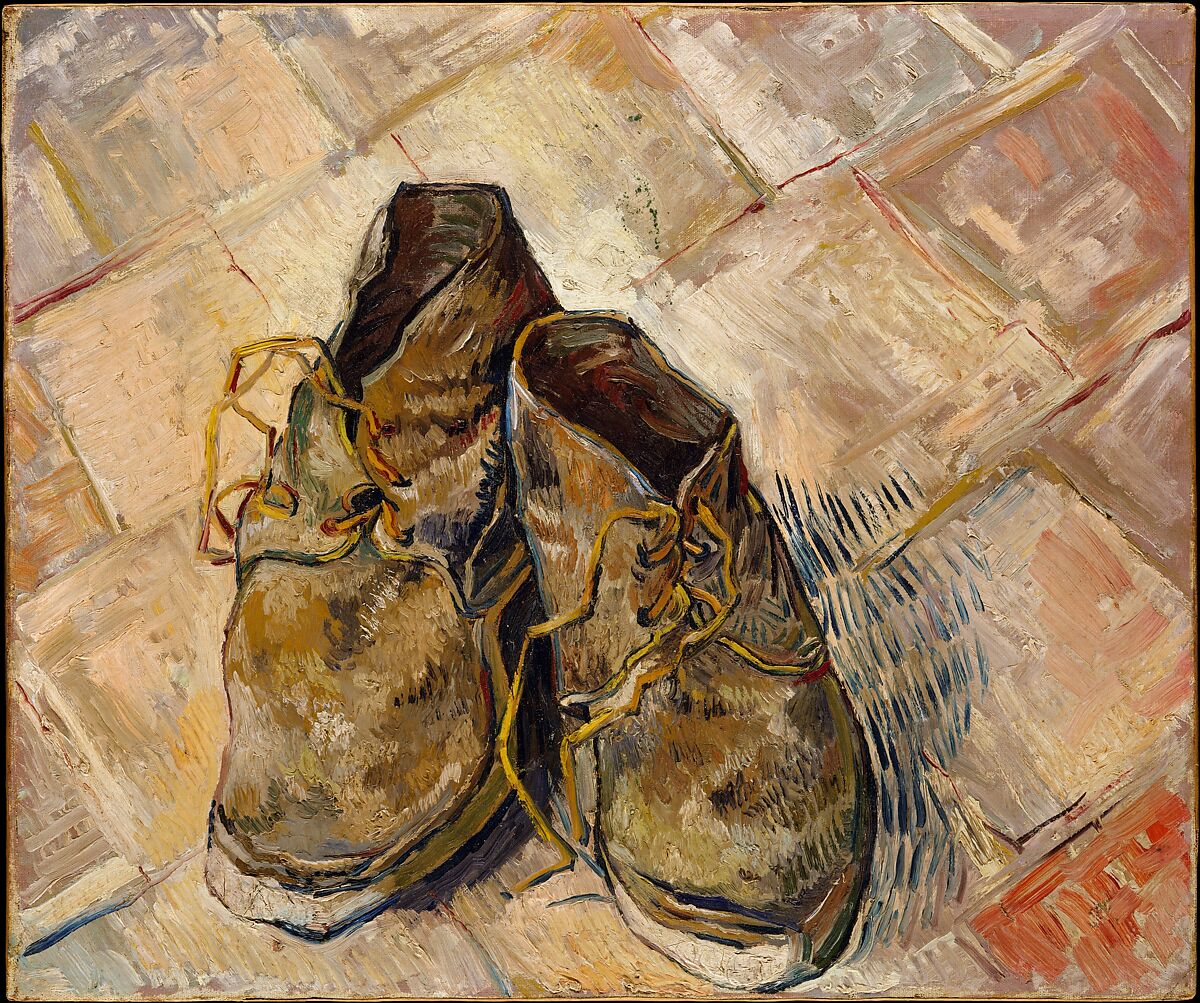 For the presentation of the work, I would add text reflecting my experience when looking at each set of my own footwear (example with my images). My proposed layout is the white void of product photography; but the significance of the space is interrupted with the used and worn footwear – the footwear that tells my story. The blank context allows the viewer to read the worn footwear without the distraction of a more loaded visual context. I looked at a number of practitioners working with image and text (including Willie Doherty and John Kippin). Above all, I was informed by Victor Burgin's perspective on image and text is that 'there are the 'images' and there are the words, and there is an empty space between them. For me, this space is the space in which I work, in anticipation of the work of the viewer-reader in this same space.' (Bishop & Cubitt, 2013). I would like the viewer to be aware of both image and text, but allow space for them to interact with each separately; understanding something of my own experience from the text but also being able to create their own stories.
The images were created in a controlled studio environment to maintain a consistent point of view and lighting throughout. The set up is described here and the contacts and process of shooting here. With the preparation and attention to detail required, I was reminded that the number of times the shutter is clicked is a poor indicator of the work that goes into photography and that photography itself seems to be frequently misunderstood as a purely industrial process.
Tutor feedback
My tutor's feedback and further research is shown here. No image rework was required, but after discussion and my own sense (following a portfolio review at Impressions Gallery) that the work needed more context for it to communicate, I worked on ideas for dissemination which are reflected above.
References
Barthes R (1980). Camera Lucida. London: Vintage.
Bishop, R., & Cubitt, S. (2013). Camera as Object and Process: An Interview with Victor Burgin. Theory, Culture & Society, 30(7–8), 199–219. https://doi.org/10.1177/0263276413501346
Martin R (1999). Too Close to Home. n.paradoxa: international feminist art journal' vol.3. 'Body, space and memory. Available at: http://www.rosymartin.co.uk/tooclose_essay.html (accessed 5.12.18)
Sartre J-P (1946). Existentialism Is a Humanism [essay]. Available from: http://www.webpages.uidaho.edu/engl_258/Lecture%20Notes/Exist%20is%20a%20humanism.htm (accessed 5.12.18)